COMPUTER FOR ALL

To address the growing need in facilitating the establishment of digital infrastructure in Armenia, the Government of Armenia, EIF, and Hewlett Packard initiated the development of the Computer for All Program aimed at increasing the populations' computer usage and legalizing software by offering modern and reliable computers with software at affordable prices.

The primary economic and social objectives of this project are to:
Increase the penetration of personal computer and Internet usage by the number of people using online services, which in turn, will create a basis for the introduction of new electronic services by the Government, businesses, educational institutions, etc.
Develop a computer literate workforce among the Armenian population of various age groups
Promote the Armenian ICT market by stimulating the development of local hardware and software industries
Offer licensed preinstalled software packages to decrease software piracy rate in Armenia.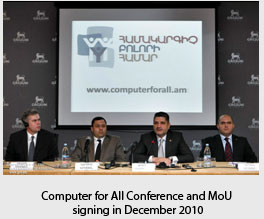 The program was successfully piloted in 2010 through collaborative efforts of the Government of Armenia, EIF, HP, Unicomp and ACBA-Credit Agricole Bank. Retail stores in Yerevan, Gyumri, and Vanadzor cities promoted and sold computers and related equipment to the public through special financial schemes increasing their affordability.

As the program is gaining momentum among the potential beneficiaries in both urban and rural Armenia, expansion phase is under development to bring the opportunity to all parts of the country. In 2011 the program participants team was expanded to include the Central Bank of Armenia, the World Bank, USAID, Microsoft, Orange Armenia, and a large number of banks and vendors. In May 2011, EIF announced an expanded distribution network that will allow citizens of Armenia to obtain Computer for All desktops and notebooks from the major nationwide network of Orange Armenia sales-offices. In addition, program beneficiaries will receive internet-related special offers, a step targeting increased internet access and e-participation.

Visit www.computerforall.am for contacts and more information on computer specifications, prices, and retail shop locations.