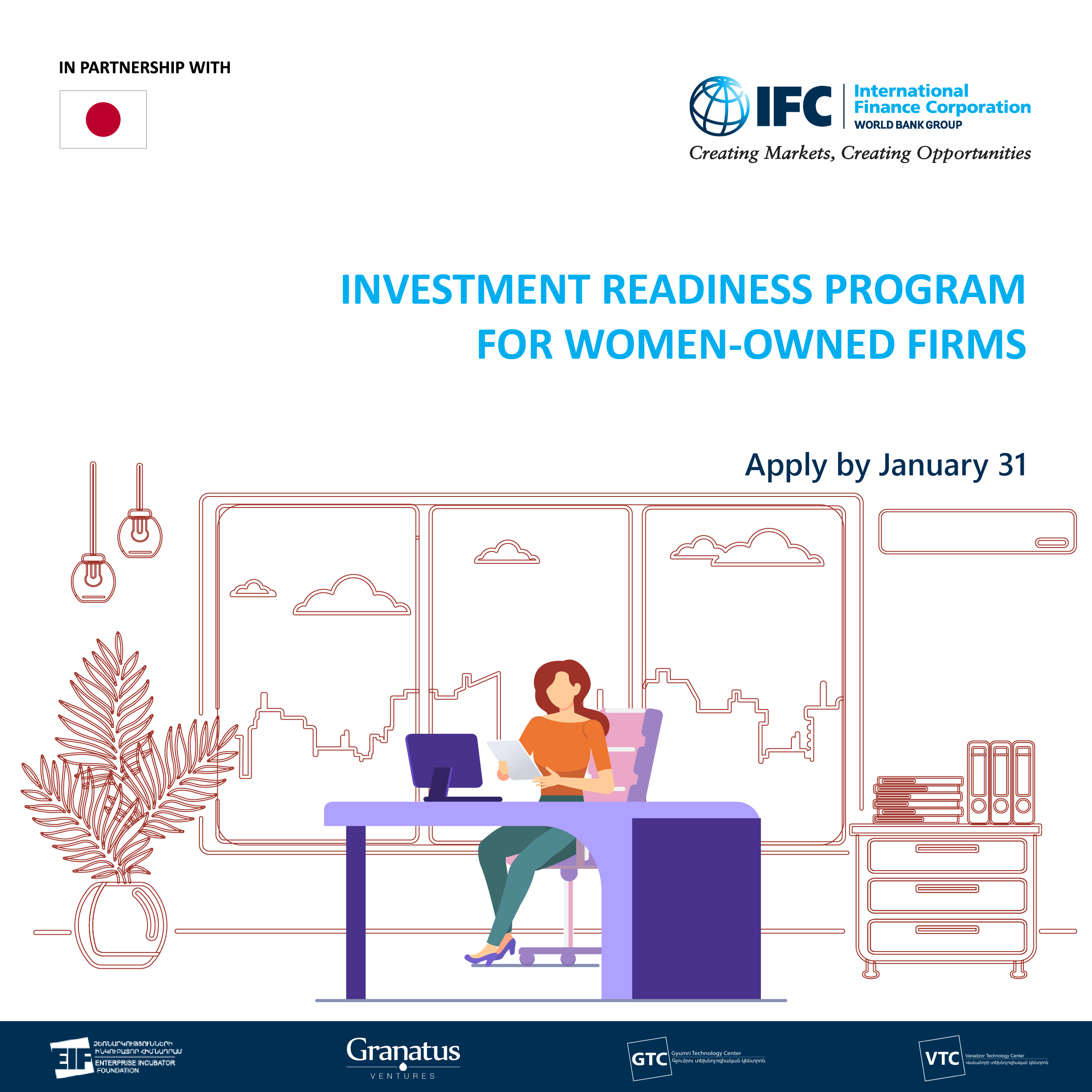 ANNOUNCEMENT
The International Finance Corporation (IFC), a member of the World Bank Group, in partnership with the Japanese government, invites interested women entrepreneurs to participate in the "Investment readiness program for women owned firms" program.

The Program aims to boost the investment readiness and attractiveness for women owned companies and to support companies (teams) founded and managed by women to increase investment attractiveness, level of investment readiness, as well as to take clear actions to attract investment.
The program consists of intensive individual and group mentoring, coaching and training aimed at raising the level of investment readiness of women owned firms. The program will also include concrete steps to connect the participants with potential investors and start an investment process. The total duration of the program is 6 months.

The project is launching in the Engineering City in Yerevan, in Gyumri and Vanadzor Technology Centers.

Who can apply?
Women founded and owned companies (teams) as well as companies (teams) with females as majority shareholders and/or CEOs, which:
● would like to attract investments for the development and expansion of their companies;
● would like to increase the investment attractiveness of their company;
● have a business with long term development prospects.

If the applicant is a team, company registration is mandatory during the program.

The selected applicants will be divided into 2 groups according to the maturity of their business plan and the level of investment attractiveness:
● For the participants of the 1st group, a deep, individual mentorship program is planned, as a result of which the company will have a step by step investment attraction strategy and will practically apply that strategy in order to attract investment during and after the program.
● The participants of the 2nd group will undergo a group mentorship program and trainings on specific topics, and, as a result, will gain applied knowledge in order to increase the level of investment readiness of their business and to attract investments through different funding opportunities.

During the program, business-investment attractiveness workshops will be organized with relevant seminars, experts, assignments, meetings with mentors, as well as meetings with potential investors.


The "Investment readiness program for women owned firms" is carried out by "Enterprise Incubator Foundation" and "Granatus Ventures".


Reminder:
The program does not provide direct financial support. The participants of the program will develop the investment opportunities of their business and will acquire skills of investment attractiveness.

Interested parties can apply before January 31 23:59, 2022


In case of further inquiries or questions, you can send an email to [email protected] or call 055135558.
Back