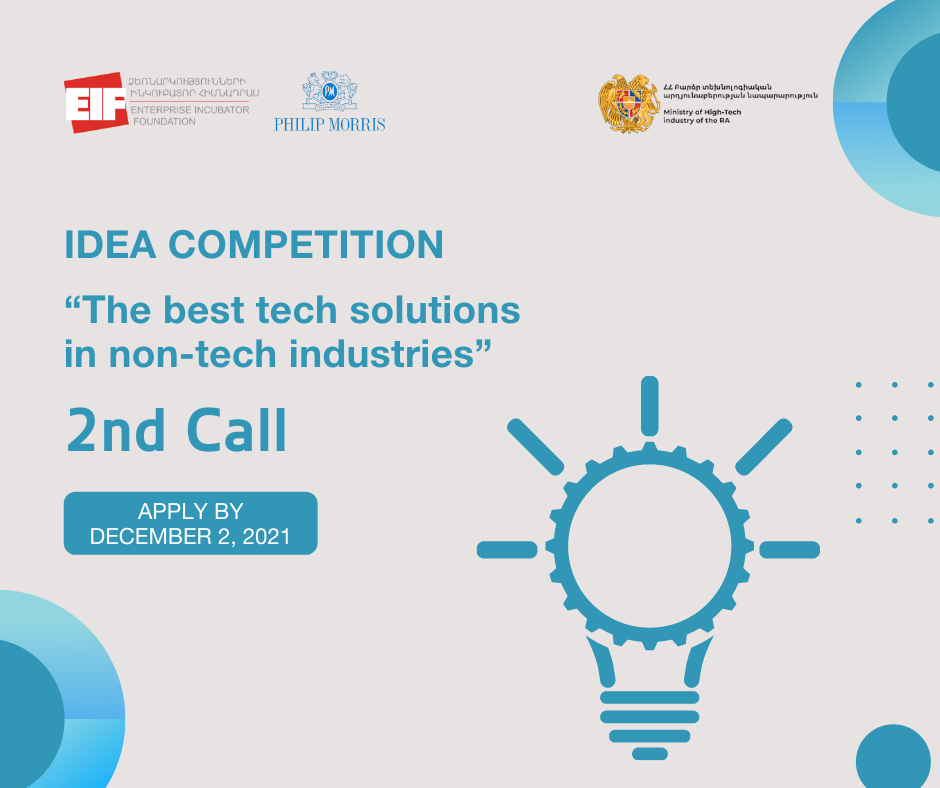 CALL FOR APPLICATION
"The best tech solutions in non-tech industries" idea competition /2/

We are thrilled to announce a new call for application on "The best tech solutions in non-tech industries" idea competition, which aims to support teams and companies from Armenia working on innovative tech products revolutionizing traditional sectors of the economy.
The tech solutions must address non-tech industries and directions such as:
• Sustainability and alternative energy,
• Design and creativity,
• Fabrication and manufacturing,
• Science and education,
• Agriculture and rural development,
• Healthcare and psychology,
• Tourism and hospitality,
• Other.
Participating teams will get an opportunity to work with experienced mentors and pitch their ideas during a special bootcamp.
The program is implemented by Enterprise Incubator Foundation in cooperation with the Ministry of High-Tech Industry of RA and funded by the Philip Morris Armenia.
Selected teams will receive an award in the amount of around 1.440.000 AMD (including taxes, duties and/or other mandatory payments).
Applications for "The best tech solutions in non-tech" competition must be submitted until December 2, 2021, 23:59 (Yerevan time) by filling out the following application form.
Applications must be submitted in Armenian or English.
Note: Please be informed that in order to fill in the Application form you need to have a Google account.
Preliminary online information session will be organized on November 26 at 17:00 for all interested candidates to provide detailed information and guidance. To register please visit here.
In case of additional questions:
Contact person: Arthur Pokrikyan
Tel.: +374 11 219797; e-mail: [email protected]
Back