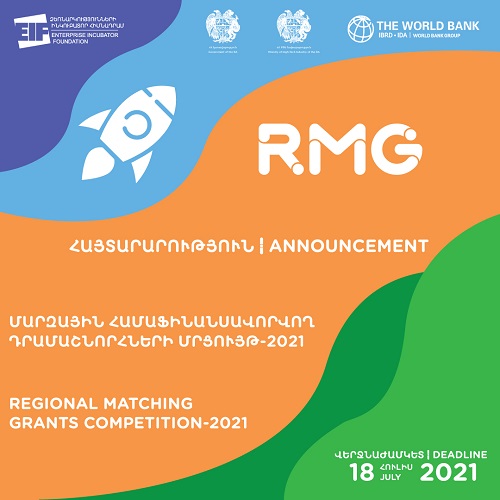 ANNOUNCEMENT /15․06․2021/
Enterprise Incubator Foundation announces NEW CALL for the Regional Matching Grants competition, in the scope of the "Matching Grants" Program implemented with the assistance of the RA Government, RA Ministry of High-Tech Industry and the World Bank.
The Grant Program aims at assisting IT and High Tech companies and teams operating in the regions (when the company is located at least 50km from Yerevan) to develop their innovative products and solutions, as well as to direct them to promote traditional sectors of the economy.
Participants selected within the framework of the grant program will get an opportunity to work with experienced mentors, with the support of which they will develop skills in project presentation, and attracting finance and investment, international clients, and partners.
The amount of co-financing provided by the Grant program in the scope of this announcement should not exceed 7.800.000 AMD.
In the scope of Regional Matching Grants competition grant will be provided in amount of 85% of the presented project budget, the remaining 15% should be company's co-financing.
In the scope of this announcement duration of the project is 6 months.
All participants should meet the conditions of the Grant Project Operational Manual and be guided by the requirements set forth in it, considering this announcement's conditions.
By the following links you can download the Project Operation Manual, Application and Budget forms.
Applications for the Matching Grants program must be submitted to [email protected] until July 18, 2021, 23:59 (Yerevan time).
Applications must be submitted both in Armenian and in English.
Preliminary information sessions will be organized for all interested candidates to provide detailed information about the Program, particularly:
June 23, 2021 Gyumri – Gyumri Technology Center, 1 Gayi str.;
June 28, 2021 Vanadzor – Vanadzor Technology Center, 12 Shinararneri str.;
July 2, 2021 Kapan – Kapan branch of the National Polytechnic University of Armenia, 28 Baghaberd str..
Information about all other possible meetings or events organized under this program, you can find out on the Facebook page of the Enterprise Incubator Foundation:
https://www.facebook.com/EnterpriseIncubatorFoundation.
In case of additional questions:
Contact person: Ani Hovhannisyan
Tel.: +374 11 219734; e-mail: [email protected]
Back