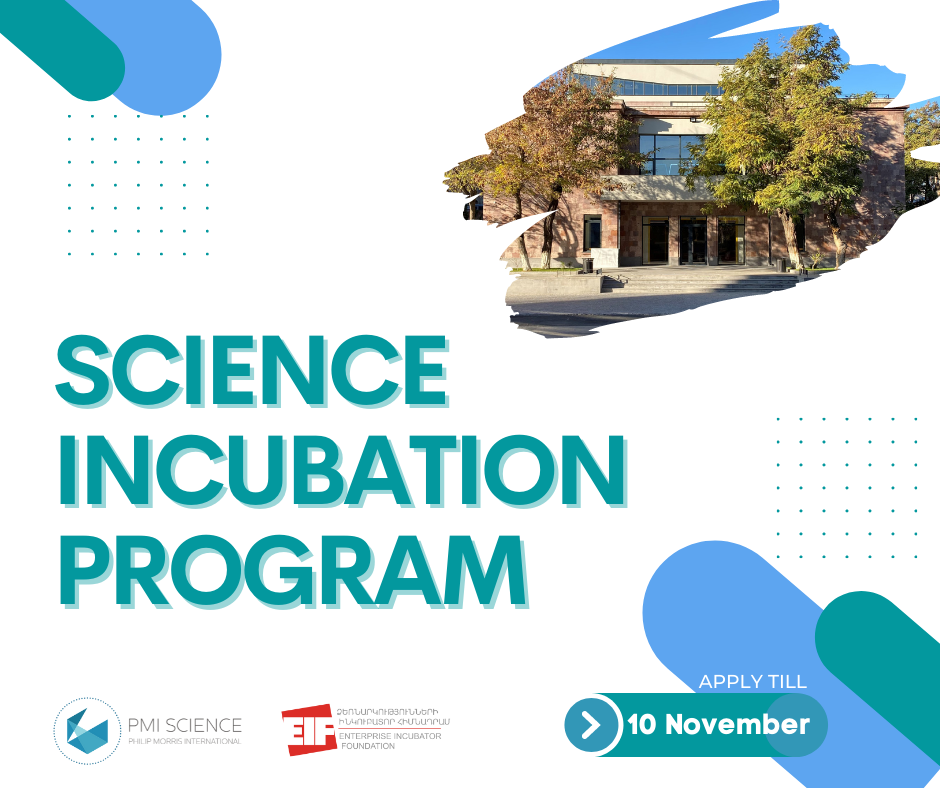 ANNOUNCEMENT

/updated/
Science Incubation Program 2021
We are excited to announce the launch of the Science Incubation Program implemented by Enterprise Incubator Foundation (EIF), with the support of PMI Science. The Program aims to support scientists, specialists, companies, and research institutions to come up with disruptive ideas, hypotheses and to direct the process of creating business entities based on evolving game-changing scientific outcomes. Furthermore, the program aims to pursue innovative paths that are promising in terms of delivering massive improvements to human welfare.
The program is implemented in the following directions:
Materials science, sustainable materials, materials with magnetic properties
Alternative non-electronic energy sources
Heating and heat transfer technologies
Neuroscience, sensorial experience, sensing technologies
Aerosol science and technology
Botany, toxicology
Applied and experimental physics
Engineering, industrial and systems engineering, electronic engineering, prototyping
Mathematics, mathematical modeling, data science
Analytical chemistry
The program will be implemented in two stages. During the 1st stage, applicants will present and "defend" the feasibility and potential of their ideas. Upon the results of a pitching event selected teams will receive initial funding equal to around AMD 2.4 mln (including all taxes and other mandatory payments) and technical support and proceed to the 2nd stage of incubation.
During the 2nd stage of incubation, teams will start working on the proof of concept, prototype development for their ideas. Upon anticipated progression, a broader team, product development platform, and financial resources will be provided.
During all the incubation process local and international experts' network would be engaged to critique, advise and mentor teams on the development of their project.
Who can apply?
Teams of researchers and high-tech professionals from the universities, scientific institutes, and high-tech companies of Armenia. Registered companies are also eligible to apply.
The recommended teams would consist of 2-4 members, with strong background and capacities to ideate and design a project in one of the directions of the program. The desired background of the team members is in (but not limited to): Mathematics, Chemistry, Material Science, Biology, Engineering, Innovation and Technology Management, Physics, etc. Teams can include both employees and students, who are ready to dedicate time for their project. Scientific degrees and experience in doing research projects will be an asset. Team leader is the focal point of communication.
How to apply?
Interested teams/companies should fill in the Online Application Form and include links presenting:
Idea Concept (problem, solution, relevance, novelty, methodology, impact, etc.)
Team (CV, video, poster, portfolio, publications, etc.)
Teams have flexibility to decide the format of the required documents. Creativity and out-of-box thinking are encouraged.
All documents in the application package should be submitted in English.
The deadline for submitting the applications is November 10, 2021, 23:59 (Yerevan time).
Note: Please be informed that in order to fill in the Application form you need to have a Google account.
Please make sure you have read the Privacy Notice before applying.
In case of additional questions:
Contact person: Arpine Davtyan
Tel.: +374 11 219797; e-mail: [email protected]
Back