03.05.2011
Imagine Cup Armenia 2011 Winners Announced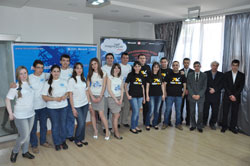 "Imagine Cup Armenia 2011" contest is successfully over with winners announced during the award ceremony on May 2 in Marriot Armenia Hotel.

The theme for Imagine Cup 2011 was "Imagine a world where technology helps solve the toughest problems facing us today" addressing the UN Millennium Development Goals. The first place winner was the team X-Teach with its "Teach Me Now" project, which is aimed at promoting universal education and increased employment opportunities through the creation of a global online training portal that will help people find relevant and affordable trainings and help trainers find large auditoriums. "The age of presidents and politicians is over", said the leader of the winner team Arman Atoyan, "today technology is the source of world changes, through such people as Gates and Zuckerberg. We hope that sooner or later we will have technology specialists able to transform Armenia into a true technological state".

X-Teach will take its project to New York City, USA this summer to represent Armenia in the international Imagine Cup finals.

The second and third place winners were respectively Eco-Friends team with their "Save Water" project and ANAKA team with "Together for World" project. All the winners received certificates and monetary prizes from Enterprise Incubator Foundation. The first place winner was also awarded a netbook from ArmenTel, while the other two companies were invited to ArmenTel next week to receive their due prizes in a special ceremony.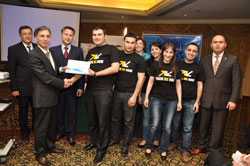 The participants of the contest were greeted by the RA Minister of Economy Tigran Davtyan and the RA Minister of Education and Science Armen Ashotyan who noted that technology is a major source of change and promotion of technological innovation among the youth is an indispensable aspect of development at large.

Imagine Cup is the premier contest for IT students held by Microsoft Corporation. It is aimed at helping IT students to identify new approaches in IT, and to develop new programming solutions and packages. Over 100 countries and regions of the world participate in the contest annually. It has been held in Armenia since 2008 under joint administration of Enterprise Incubator Foundation, Microsoft RA and Microsoft Innovation Center.

For more information on the contest please visit: www.imaginecup.am
Back