03.08.2015
Gyumri Information Technologies Center is 10 years old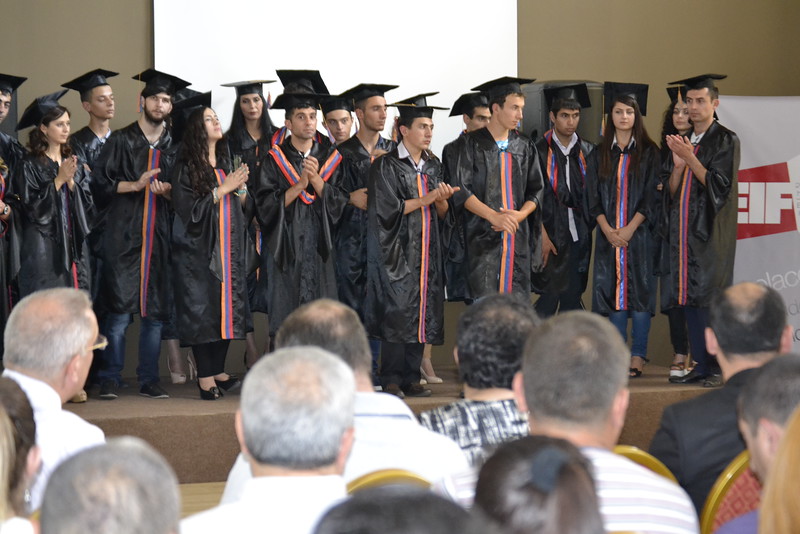 The 10th anniversary of Gyumri Information Technologies Center was recently marked. The center has been established in 2005 by joint efforts of Enterprise Incubator Foundation (EIF), Fund of Armenian relief (FAR), and Shirak Technologies. For 10 years the center has already trained 300 competitive specialists in IT market, 95% of which are employed. Since the establishment the center is trying to decentralize IT market from Yerevan to Gyumri promoting economic empowerment and IT sector advancement in the country.

The graduates of GITC two-year educational program specialized courses organized for evening and high school pupils were handed in graduation certificates in the presence of top officials, representatives of international organizations and leading professionals of the sector in the framework of the event dedicated to the 10th anniversary of Gyumri Technology Center. Armenian Relief Technologies, Enterprise Incubator Foundation and other partner organizations received letters of gratitude for effective cooperation and promotion of the sector development.

During the event the participants of Linux operating system and C programming language specialized training, co-hosted by Enterprise Incubator Foundation, D-Link and Gyumri Information Technologies Center, were handed in certificates too. The participants, who showed high progress during this training will have the opportunity to undertake an internship and obtain employment in "D-Link" company.

The success of Gyumri Information Technologies Center was a precondition for the establishment of Gyumri Technology Center. Already in 2014 Gyumri Technology Center began working in a modern new building, where more than 20 companies, including Gyumri Information Technologies Center carry out their activity.
Back