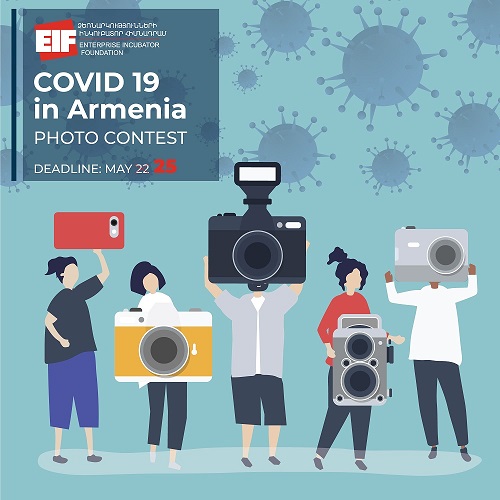 Announcement /updated/

Photo contest under the headline of "Covid-19 in Armenia"
Enterprise incubator Foundation announces a photo contest under the headline of "Covid-19 in Armenia".
The prize fund is 1.500.000AMD which will be distributed among the authors of up to 3 winning photos in the following categories:
- Best photo (non-professional) - Jury nomination,
- Best Photo (Professional) - Jury nomination,
- The photo with the most likes on Facebook.

The generations are communicated about the transformations or adaptation in different situations through documented facts, due to flexibility and creative approach of the human mind.

2020 will be recorded in history as the chronicle of the world's transformation. A chronicle that created a script of new technologies in the world for changing values, revising priorities and adaptation.
Let's show to the world through photos how an Armenian is living, rejoicing, feeling sad, adapting, and reflecting while in pandemic isolation because of a new kind of coronavirus disease, Covid-19 – the Armenian who overcame various hardships in different historical epochs, due to his flexible mindset and actions.
Various specialists from Armenia as well as abroad will be involved in the evaluation process.
Each participant can submit a maximum of 3 (three) photos. Photos must be submitted in JPEG/JPG format, at least 2 MP, without modification or thorough processing (e.g. Photoshop), with no visible watermark.
Both professional and amateur photographers' works are accepted and will be evaluated jointly.
The winners of the competition will be the best and most impressive photos (regardless of quality) related to "Covid-19 in Armenia" headline.

If you want to participate in the contest, follow the link below, then fill out the application form and upload the thematic photos here: https://bit.ly/3dsAcqi
The deadline for application is 25 May 2020, at 23:59 (Armenian time).
If you have any questions, please contact us at +374 11 219797 or [email protected]
Back