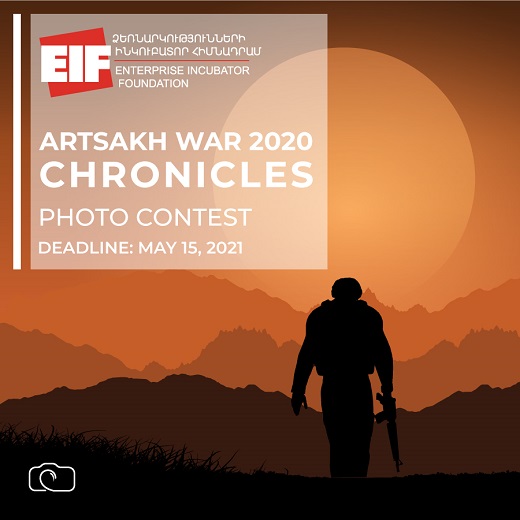 ANNOUNCEMENT
Photo contest under the headline of "Artsakh War 2020 CHRONICLES"
Let's contribute in this important initiative of collecting digital documentary on the days of war and passing it on to future generations to restore historical justice.
2020 will be recorded in history as a chronicle of myriad global adversity. For us Armenians, it is also a historical chapter of war and irreversible loss.
The war unleashed by Azerbaijan on September 27, 2020 against the two Armenian states had the support of Turkey and numerous other states. These enemies used Syrian mercenaries, attacked civilians, employed banned weapons, and committed numerous violations of universal human rights. The painful results will undoubtedly leave deep scars on our nation and ourselves.
However, due to our resolve and resilience of mind, we will surely be able to overcome this generational trauma and stand up again – moving forward – to strengthen the foundations of our state and initiate a new era of success.
We must also pass on to future generations the facts of this brutal war. This will require creativity and courage.
Enterprise Incubator Foundation therefore announces a photo contest titled "Artsakh War 2020 CHRONICLES".
Let us show to the world – through photos – the truth of this unprecedented aggression against our nation in the 21st century, when viewed through the lens of contemporary society, chronicles of the heroism of our army, volunteers, and the united all-Armenian back will be presented and preserved.
The "Artsakh War 2020 CHRONICLES" contest will accept works of both professional and amateur photographers in the following thematic contexts:
- Atrocities against humanity
- Chronicles of heroism
- United back
Various specialists from Armenia and abroad will be involved in the evaluation process of the contest. The winners will be the photos with the best and most impactful content related to each topic (regardless of quality).
The prize fund is 1,500,000 AMD, which will be distributed among authors of photographs winning in the 3 thematic contexts.
Each participant may submit a maximum of 3 (three) photos.
The photos should be presented in JPEG/JPG format, at least 2 MP, without modification or thorough processing (e.g. Photoshop), with no visible watermarks.

If you want to participate in the contest, follow the link below, then fill out the application form and upload the photos: https://forms.gle/3x5MUApV7jZRefdp8
The deadline for application:
up to May 15, 2021, 23։59 (Yerevan time).
In case of questions please contact us:
by phone at +374 11 219797 or by email at [email protected] .
Back