25.10.2011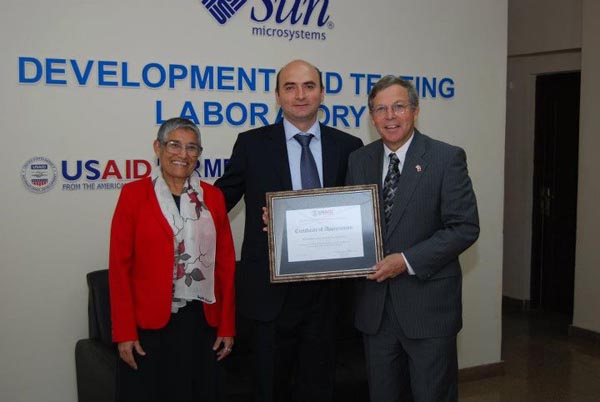 On October 24, 2011 Enterprise Incubator Foundation hosted the newly-appointed U.S. Ambassador to Armenia John Heffern and USAID Armenia Mission Director Jatinder Cheema to discuss current partnership and future collaboration prospects.

EIF Director Bagrat Yengibaryan presented to the guests the current projects of EIF and discussed the challenges and trends of the IT sector in Armenia. They made a tour in the incubator to get acquainted with the tenants, such as the National Instruments Armenia and EV Consulting, as well as visit the Sun Microsystems Lab, a project funded previously by USAID, and the newly established Regional Mobile Applications Laboratory (MLab).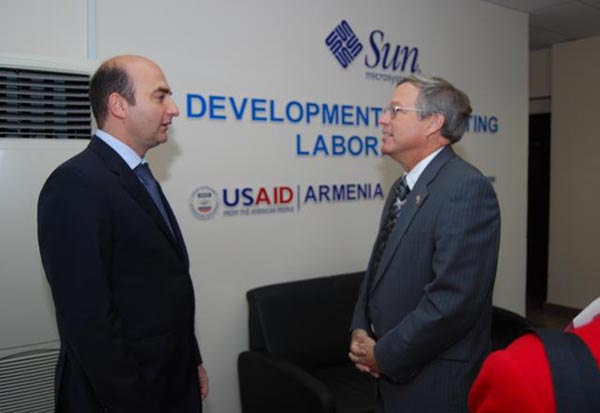 EIF Director Bagrat Yengibaryan was awarded by USAID with a Certificate of Appreciation in recognition of dedicated partnership fostering business creation and promoting the development of Armenia's IT industry.

Currently EIF is implementing the USAID funded Microsoft Innovation Center in Armenia project. The Center located in the premises of the State Engineering University of Armenia celebrated its opening in May 2011 and is serving to promote IT workforce development and business coaching for startups.
Back