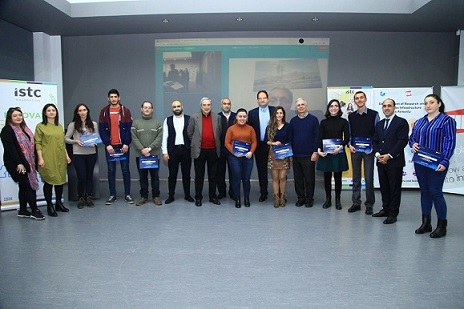 PhD Support Program Award ceremony was held in ISTC to appraise 10 PhD students who were selected as winners among 45 applications.
The Winners of PhD Support Program are:
Hasmik Kirakosyan /NICP/
Henrik Parsamyan /YSU/
Lilit Arshakyan /NASRA/
Maria Antonosyan /NASA/
Maria Nikoghosyan /RAU/
Meri Arzumanyan /YSU/
Mikayel Samvelyan /RAU/
Senik Matinyan /YSMU/
Tatevik Baghdasaryan /NPUA/
Tigran Hakobyan /NPUA/
Congratulations to all the winners!

They will receive 364,000 AMD monthly scholarships as well as international mentors support to complete their research projects.

PhD Support Program is implemented by Enterprise Incubator Foundation by the contributions from PMI Science as part of Research and Development ecosystem development in Armenia.

The award ceremony was opened with inspiring speeches by Deputy Minister of Transport, Communication and Information Technologies Gegham Vardanyan, Deputy Minister of Education and Science Arevik Anapiosyan and PMI's Commercial and Intellectual Property Director Luka Rossi. As speakers highlighted in their messages, it is very important to have such programs in Armenia that contribute in Science and Research empowerment and motivate young students on the way to Science.


45 applications were received from various Universities, Science and Research Institutions. The selection was made by jury members: experts, representing Armenian Engineers and Scientists of America and New Jersey based Rutgers University. Applications were evaluated according to the complexity of the proposed problem, the relevance and applicability of research and experimental solutions.


Among honorable guests from Universities, Research Institutions, PMI Science the jury members also greeted and congratulated the winners via online connecting from New York. As part of PMI supported Research and Development ecosystem program EIF will implement series of projects during 2019 as well to support science and research sector in Armenia.
Full event album under the link.
Back