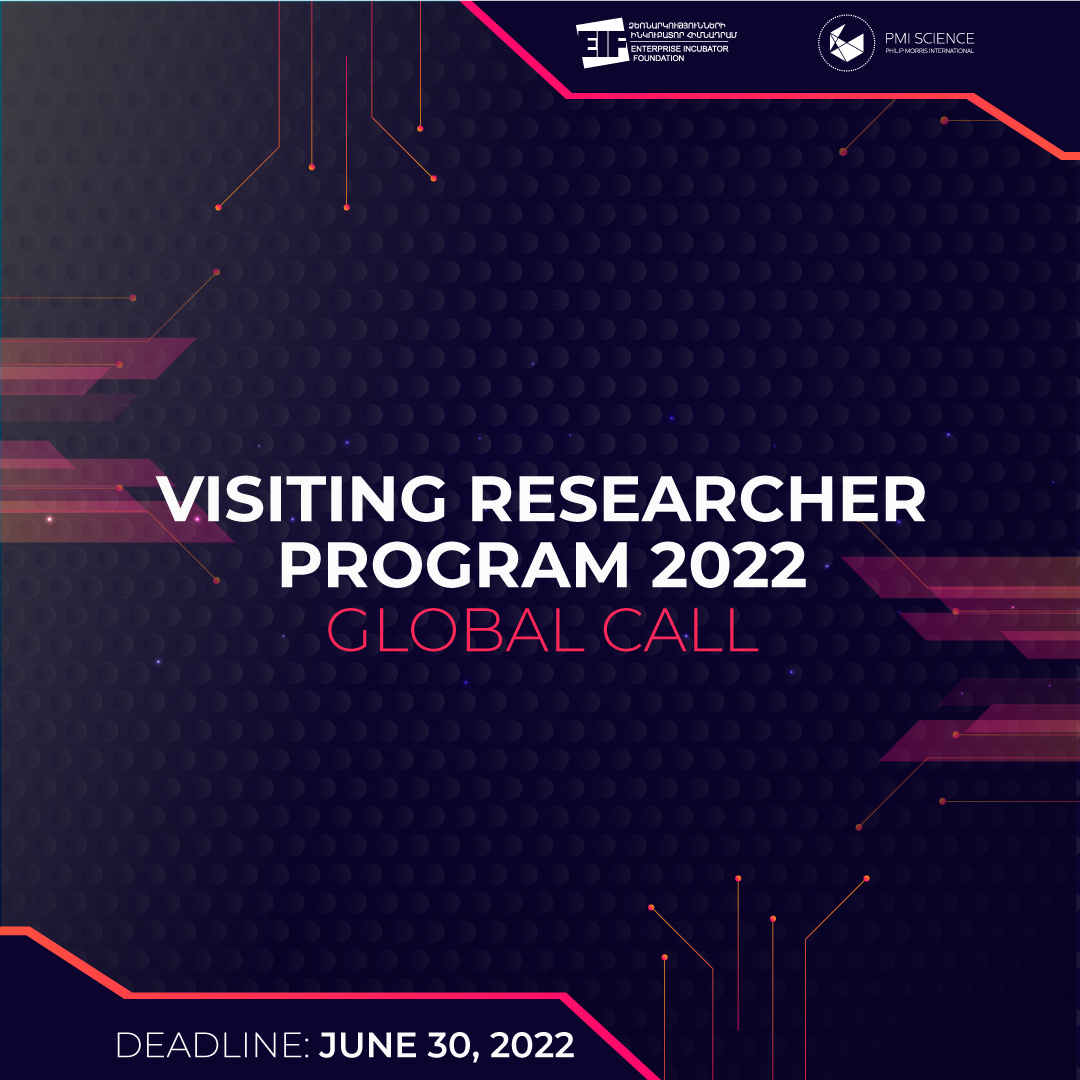 Global Call for Expression of Interest
"Visiting Researcher Program 2022"
Outstanding researchers from foreign leading universities, research institutes, and companies are invited to apply for the Visiting Researcher Program 2022 to boost collaborative results and international collaborations.
Visiting Researcher Program, implemented by the Enterprise Incubator Foundation (EIF) with the support of PMI Science, will bring top international scientists to Armenia for up to 3 months.
Benefits:
Visiting Researchers will support various research teams and facilitate collaborative research projects. They are also encouraged to participate in workshops, lectures, seminars, and exclusive community activities to foster networking.
In addition, the Visiting Researchers will have a unique opportunity to get acquainted with the Armenian ecosystem of science, technology, and education that have decades of tradition and excellence, as well as to get to know Armenia as a country with centuries-old cultural heritage, enchanting nature, and, of course, heavenly delicious national cuisine.
The pilot program will cover the Visiting Researchers' travel, living, and accommodation expenses.
Eligibility criteria:
Visiting Researcher Program is open to academics from all corners of the world who:
hold a tenured professorship, or equivalent permanent position at universities, research institutes, and companies outside Armenia;
have a PhD;
publish articles in Q1, and Q2 journals;
have an h-index equal to at least 10.
Disciplines:
Researchers can apply to the Visiting Researcher Program 2022 if their scientific background is related to the following areas։
Materials science, sustainable materials, materials with magnetic properties
Alternative non-electronic energy sources
Heating and heat transfer technologies
Neuroscience, sensorial experience, sensing technologies
Aerosol science and technology
Botanicals, Agronomy
Toxicological methodologies
Applied and experimental physics
Industrial and systems engineering, electronic engineering, prototyping
Mathematics, mathematical modeling, data science
Analytical chemistry
How to apply?
To participate in the program, the applicants should submit the following information by filling in the Online Expression of Interest Form:
Links to profiles (ResearchGate, Academia, Google Scholar, LinkedIn);
A statement and details about the previous experience as a research team lead;
A detailed curriculum vitae (CV)/resume.
All documents should be submitted in English.

The deadline is June 30, 2022, 23:59 (GMT+4).
Notes:
Please be informed that to fill in the Online Expression of Interest Form, you need to have a Google Account.
Please make sure you have read the Privacy Notice before applying.

In case of additional questions:
Tel.: +374 11 219797
E-mail: [email protected]
Back