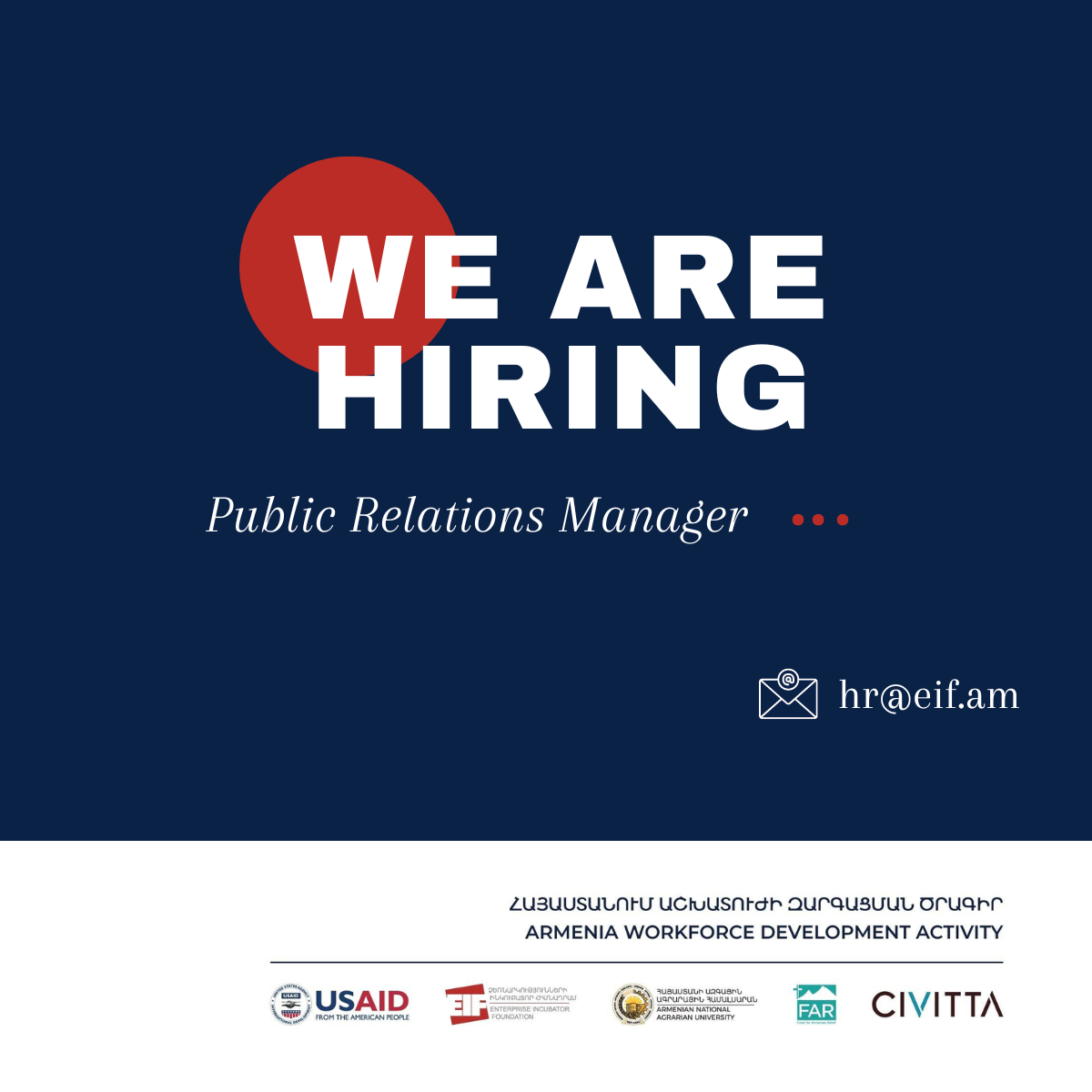 JOB ANNOUNCEMENT

Enterprise Incubator Foundation is seeking a skilled and experienced
Public Relations Manager to join our team
for the "Armenia Workforce Development Activity"
Job description:

At Enterprise Incubator Foundation (EIF), we are committed to providing high-quality and in-demand technical education for young people looking to start or advance their careers in the rapidly evolving tech industry.
We are seeking a skilled and experienced Public Relations Manager to join our team for a specific project. In this role, you will be responsible for developing and implementing effective public relations strategies that promote our project and enhance our reputation with key stakeholders, including customers, partners, and the general public.
Key Responsibilities:
Develop and implement a comprehensive public relations strategy for the Armenia Workforce Development Activity that aligns with the project goals and target key audiences.
Develop and maintain relationships with media contacts, pitching stories and securing coverage for the project and its initiatives.
Create and distribute press releases, media kits, and other materials to promote the project and its products/services.
Set up and coordinate the PR team to ensure that our messaging and branding are consistent across all channels.
Lead SMM activities, by setting the targets and coordinating the development and dissemination of digital content.
Collaborate with project partners to identify visibility opportunities, thought leadership pieces, and other activities that can help promote the project and its impact.
Design and implement awareness raising campaigns in the regions
Manage external agencies and vendors as needed to support our public relations efforts.
Qualifications:
Bachelor's degree in public relations, communications, marketing, or a related field.
2+ years of experience in public relations.
Strong written and verbal communication skills, with the ability to craft compelling messaging for various audiences.
Proven experience in developing and executing successful public relations campaigns that resulted in positive media coverage.
Good understanding of social media marketing and its channels.
Excellent project management skills, with the ability to prioritize tasks and manage multiple projects simultaneously.
Experience working with cross-functional teams and collaborating with internal stakeholders at all levels of the organization.
As a Public Relations Manager for the project, you will play a critical role in building awareness and support for the initiatives. If you are a strategic thinker with strong media relationships and a track record of successful public relations campaigns, we encourage you to apply for this exciting opportunity.

Required candidate level: Senior
Application procedures: Interested candidates should send a CV to [email protected] with the subject: "PR Manager" till May 21, 2023.
About the Activity:
Armenia Workforce Development Activity is a five-year Program funded by the United States Agency for International Development (USAID) and implemented by the Enterprise Incubator Foundation (EIF) and consortium partners, including the Armenian National Agrarian University (ANAU) Foundation, Fund of Armenian Relief (FAR) and Civitta Armenia.
The Activity aims to equip 10,000 young people at the age of 15-29 in all marzes of Armenia with working skills, highly demanded in the labor market and ensure 7,000 have better employment opportunities.
The Activity was launched in October 2021 and will be working to provide the youth and women with opportunities to improve their skills in line with labor market needs and find employment in the fields of ICT/high-tech, agriculture and hospitality.
The Activity will empower youth, women and people with disabilities (PWD) to be actively engaged in the labor market by engaging with the private sector, Armenian government and education institutions to counter societal stereotypes and transform the policy regulatory environment.
Back