New partnership within Computer for All Program
11.05.2011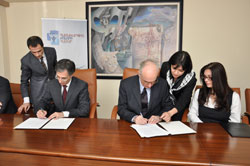 Computer For All program is making yet another important alliance to enhance its expansion throughout Armenia with a promise of increased computerization and connectivity. On May 4, 2011 Enterprise Incubator Foundation represented by the Chairman of the Board of Trustees and RA Minister of Economy Tigran Davtyan and Orange Armenia's General Director Bruno Duthoit signed a Memorandum of Understanding setting basis for cooperation within Computer for All program. From now on citizens of Armenia will be able to obtain Computer for All desktops and notebooks from major nationwide network of Orange sales-offices. In addition, Orange Armenia will make internet-related special offers for program beneficiaries.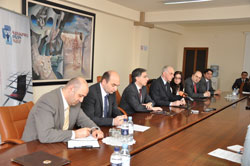 "Partnership between EIF and Orange Armenia will become an important factor in enhancing effectiveness of Computer for All program. This is yet another step towards creation of e-society in our country", says EIF Director Bagrat Yengibaryan.

Computer for All program is aimed at increasing population's computer usage in Armenia by offering modern and reliable computers with software at affordable prices.
Back