18.05.2015
IT contests, designed for IT professionals and startups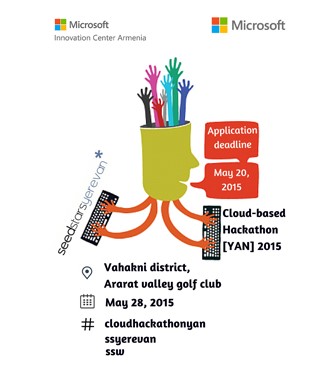 Cloud-based Hackathon [YAN] 2015 and Seedstars Yerevan will take place in Vahakni residential community on May 28, 2015
Microsoft Innovation Center-Armenia, in collaboration with Microsoft RA and Seedstars World, is organizing a unique contest day for IT specialists, which will be interesting both for beginners and startups. The partners of the event are Hovnanian International, VivaCell-MTS, Technology & Science Dynamics and Sixt companies. Cloud-based Hackathon [YAN] 2015, designed for beginners and Seedstars Yerevan targeting startups will take place on May 28 at Ararat Valley Club in Vahakni community.

Cloud-based Hackathon [YAN] 2015
The international specialists, invited by Microsoft RA, will carry out brief training sessions on Azure, cloud solutions, machine learning, internet of things, mobile programming, latest innovations in web programming etc. The training sessions will be followed with Hackathon [YAN] 2015 during which the teams will develop innovative projects and systems, based on the knowledge and skills, gained during the training session. The participants will be provided with the passwords for Azure system, as well as IOT equipment. The successful solutions will be uploaded on GitHub and will be visible to the whole world. The authors of the best solutions will receive valuable prizes and funding of up to 1,000,000 AMD. Only teams, consisting of 2-5 members, can participate in the contest. The only requirement is the availability of notebook. The application form can be downloaded from the following link (http://1drv.ms/1PkTpHp) or the website of MIC Armenia (www.micarmenia.am). It should be filled in and sent to [email protected]. The registration on the website (goo.gl/8bDO2H) is required. The application deadline is May 20, 2015.

Seedstars Yerevan 2015
Seedstars World is an exclusive startup competition in emerging markets and fast growing startup scenes. The winner of this event will be invited to Switzerland to represent his startup and country in the Final World Startup Competition. The winner of the latter will receive an equity investment of up to USD 500'000. Regional winners will be awarded with various prizes, such as coaching and mentoring from partners and well-known entrepreneurs, equity investments, entry into acceleration programs, media coverage etc. To express an interest for participating in the Seedstars Yerevan Startup Competition, please send your pitch deck to [email protected] email. Please note that the application form should be submitted by 20 May, 2015. Following the submission, if shortlisted, you will receive an invitation/endorsement for submitting a full application form to participate in the local pitching session.Microsoft Innovation Center will take care of the transportation of participants, transferring them from the office of MIC Armenia to Vahakni community and back.For more information, feel free to contact Lusine Ghukasyan, PR officer of Microsoft Innovation Center by the phone numbers 094 64 22 21, 010 54 53 43, or [email protected] or visit MIC website www.micarmenia.am.

Microsoft Innovation Center Armenia jointly established by United States Agency for International Development (USAID), Microsoft Corporation and Enterprise Incubator Foundation in 2011, now joins the global network of innovation expansion and development in IT.
Back