19.05.2011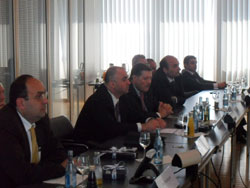 May 18 signified the opening of Armenian-German IT and Business Forum in Karlsruhe, Germany. Organized by the RA Ministry of Economy, Karlsruhe Chamber of Trade and Industry, Cronimet Mining AG and Enterprise Incubator Foundation, this two-day forum serves as a bridge between high tech and business communities of the two countries for strengthened cooperation and partnership.

Attended by a number of significant IT and Engineering company leaders and business representatives of Armenia and Germany, the Forum provides a platform for sharing experience and information, and creating effective business environment for partnership and investment.

During the Forum authorities of the RA Ministry of Economy, EIF and Armenian Development Agency presented the Armenian high tech industry and potential, business climate and investment opportunities in the country. Similarly, the German counterparts presented the current state and development prospects of German IT industry and Karlsruhe Technology Region in particular, as a technology hub for the region.

Karlsruhe Technology Region is one of the strongest economic regions and a major technology center in Europe housing a number of world-class technology and innovation companies and R&D centers. With its excellent infrastructure and highly qualified workforce the Karlsruhe Technology Region is the perfect location for IT companies and their employees. Ten towns and cities, four administrative districts and a regional association form this business and cooperation area located at the heart of what the experts call the "blue banana": Europe's economic spine and the area with the most dynamic company locations in Europe.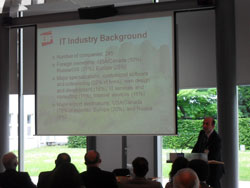 Conference participants and delegates from Armenia and Germany were invited to visit the Karlsruhe Institute of Technology (KIT). KIT is among the leading engineering research institutions worldwide. As a member of the Helmholtz Association, the largest science organization in Germany, the
institution makes major contributions to top national and international research. The KIT has already earned itself an acknowledged and internationally competitive position in climate research, nanotechnology and astroparticlephysics. It is also one of the world's leading centers for energy research. Through presentations and guided visits, scientists of the KIT provided visitors from Armenia and Germany with insights into current fields of research and research laboratories at the KIT Campus North.
Back