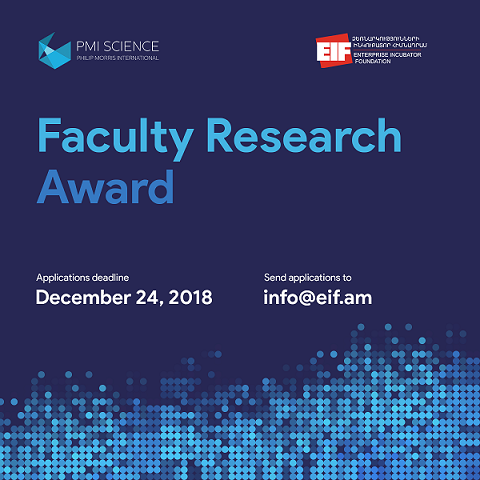 Faculty Announcement
Research Institutions and Universities in Armenia are invited to participate Faculty Research Award. Enterprise Incubator Foundation (EIF) with the support of PMI Science is announcing the Award to support teams of research institutions and universities, who implement outstanding research and scientific projects in number of areas.
Different teams from research institutions and universities all over Armenia can apply to get funding for their research projects. Faculty Research Award targets research and scientific works in number of areas:
Applied Mathematics,
Applied Physics,
Electrical Engineering, Electronics control system,
Data mining, Data management,
Simulation and Modeling, Multi-physics modeling, Algorithms,
Sensing technology,
Analytical chemistry,
Biomedicine, Toxicology
Material Science
Aerosol Science
Internet of Things (IoT).
In the scope of Faculty Research Award 7 research teams representing research institutions/universities will receive Awards with the amount of 7500 USD equivalent in Armenian Drams.
In order to be eligible for the program, the applicant organization must:
Be a team from research institution or university in Armenia (2-5 team members, with team lead).
Propose a research work, which is in line with the scope of this program and refers to the areas mentioned above.
To apply, interested candidates must submit the filled-in Application form and attach the CV's of the team members, who have been involved in the research work before the deadline: December 24, 2018.

Application Package should be submitted in English to the following e-mail: [email protected].
EIF forms a Jury, represented by Academia. Awardees are selected by the Jury based on following criteria: the complexity of the problem; impact of the research-where it can be applied, solution-experimental and theoretical; international publications/IP; citations.
Back