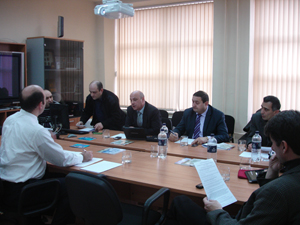 On March 1, 2011, EIF and the Union of IT Enterprises of Armenia (UITE) brought together representatives of the Armenian telecommunications sector to discuss the current state of the sector, its potential, plans for future development, and pressing issues in the sector. The discussion was attended by representatives of the largest telecom companies in Armenia – ArmenTel, Orange Armenia, ICON Communications, Web, and others.

Among many issues, the participants particularly referred to the importance of excluding monopolies in the usage of line infrastructures in the sphere of telecommunications, or, in case of natural monopolies, developing relevant regulatory mechanisms. Similarly, they stressed the need to develop concrete and effective strategies for telecommunication infrastructure development in cities and communities throughout Armenia, and policies for the development of local resources to enrich the national content.

This meeting is a continuation of the ICT Leaders Meeting-Forum held by UITE in Aghveran, Armenia in February 2011 to discuss the current status of the ICT industry, identify issues and on this basis develop the UITE long term strategic plan for 2011-2013. Similarly, results of the March 1 meeting with telecom companies will be reflected in the relevant section of UITE long term strategic plan and relevant action plans will be developed to address the issues identified.
Back