Breakfast with the President
04.04.2011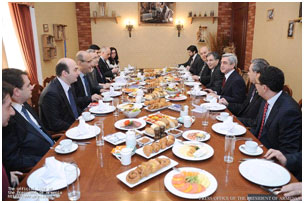 On April 2 President Serzh Sargsyan met with the members of the Union of IT Enterprises (UITE) at a breakfast to discuss the development trends and main issues of the industry.
The President and the participants representing the leading IT enterprises of the country shared their outlook of the industry development potential and process, and the role of the state in effectively managing it and creating further prerequisites for development.
The President stressed the importance of improving technology education in Armenia and activating mechanisms to encourage knowledge-based entrepreneurship. Particular attention was paid also to the issue of increased utilization of latest technology and IT solutions in business and economy.
Please also see: http://president.am/events/news/arm/?id=1512
Back