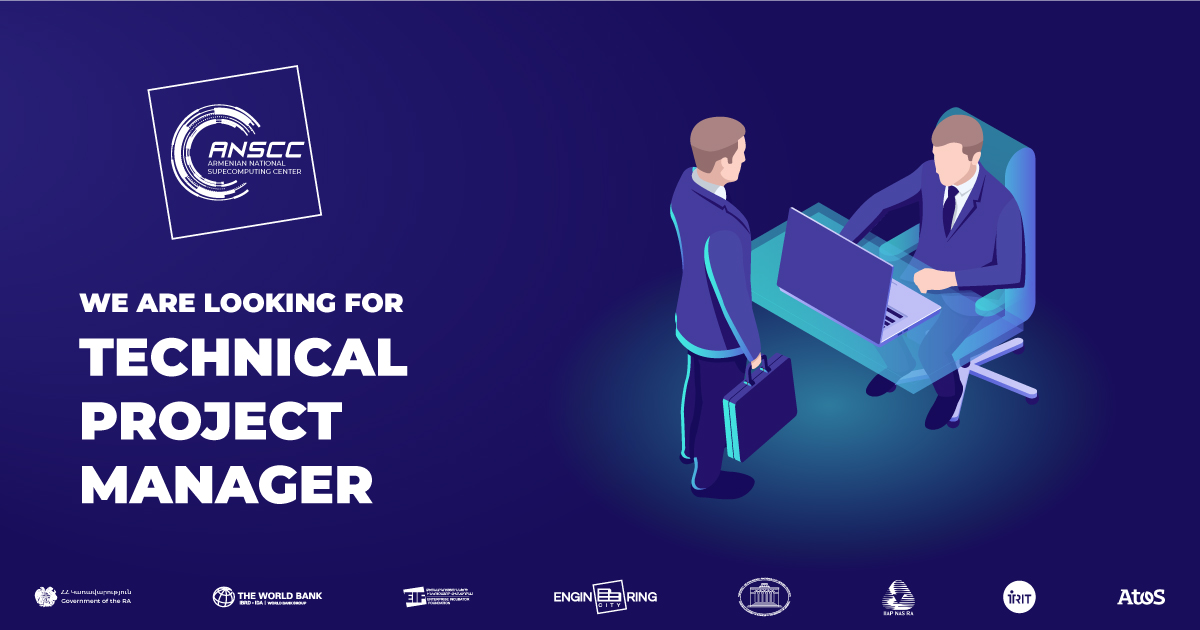 VACANCY ANNOUNCEMENT
Enterprise Incubator Foundation is looking for a Project Manager to work in the frame of the "Establishment of Armenian National Supercomputing Center (ANSCC)" Project.

Job Title: Technical Project Manager

Key Duties:
Responsible for the management, operations, strategic planning, and implementation of the project
Responsible for coordinating the implementation of research, educational and training projects
Responsible for the supervision of all logistics, HR, financial and overall functioning aspects for project
Responsible for managing the smooth operation of newly deployed TFLOP supercomputer
Organizing awareness raising activities to academia and industry across all discipline via various trainings, workshops, and summer schools; including preparing relevant background material for these events
Supporting the implementation of projects activities, managing project budgets, monitoring projects expenditure; monitoring compliance of program and financial reports
Maintaining and updating project profiles, including progress reports and work plan review in compliance with program implementation guidelines
Predicting resources needed to reach objectives and manage resources in an effective and efficient manner
Developing and monitoring the financial program management, consultancy management and provide monthly monitoring
Providing project updates on a consistent basis to various stakeholders about strategy, adjustments, and progress
Coordinate the Project implementation among consortium members and other stakeholders
Key Qualifications:
Ph.D. or master's degree in Computer Science or other related Science degree; Natural Sciences, Engineering Sciences, Mathematics and Informatics
3+ years of experience in project management
Demonstrated project management, communication, leadership and problem-solving skills. Ability to write, speak, and present effectively and persuasively at all levels.
Analytical and organizational skills; ability to manage multiple high priority demands simultaneously; ability to achieve success in situations with high degrees of variation and complexity
Strong skills in Armenian, English, and Russian languages
Solid computer skills in MS Office applications (Excel, Word, PPT)
Interested candidates are welcome to send their CVs to [email protected] mentioning "ANSCC Project Manager" in the subject line.
The deadline for application is June 15, 2022, 23:59 (Yerevan time).

***
About Armenian National Supercomputing Center (ANSCC)

Armenian National Supercomputing Center (ANSCC) project will pioneer the development and excellence of the data economy in Armenia and beyond in the region by providing leading-edge, high-performance computing resources, services, and expertise to academia, industry, and the public sector. ANSCC will support researchers, enterprises, and the public sector in tackling scientific and societal challenges and delivering scientifically excellent and industry-relevant research in high-performance computing, data analytics, and artificial intelligence.

Located in the Engineering City, the ANSCC ecosystem will accelerate the fruitful exploitation of cutting-edge computing throughout the industry, academia, and the state. The center will provide innovative and warm-water cooling 861.7TFlop supercomputing resources, support, training, and related services for large-scale simulations and modelling, cloud computing, big data and data analytics, machine learning and deep learning. The system will contribute to forming a new generation of researchers in the country.

ANSCC project is a joint initiative in the frame of a public-private partnership between the Enterprise Incubator Foundation, the Government of Armenia, the World Bank, National Academy of Sciences of RA, Institute for Informatics and Automation Problems, Toulouse Institute of Computer Science Research at the University of Paul Sabatier and Atos.
Back