05.04.2013
ANNOUNCEMENT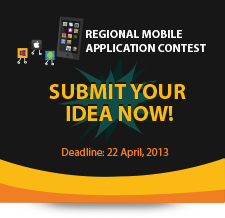 In order to increase the competitiveness in mobile development, mLab ECA is implementing a Regional Mobile Application contest (RMA) in partnership with Nokia, infoDev, and Finnish Government.
Visit the mLab ECA's official website here.
The contest is designed for programmers and non- programmers to generate ideas and craft prototypes/solutions supporting innovation, business and rural developments through mobile technologies.
WHO CAN PARTICIPATE?

Call for application is open for participants in the following country-members of ECA region:
Ukraine, Moldova, Belarus, Kazakhstan, Uzbekistan, Tajikistan, Kirgizstan, Turkmenistan, Azerbaijan, Georgia and Armenia.

Individuals and teams (maximum 5 members) from participating countries, who have innovative mobile application ideas, which could be developed into real business, are eligible to participate in the contest.

Visit the contest's official website here.

HOW TO PARTICIPATE?

1. Participate in your local Idea Generation workshop or generate idea on your own. To learn about the events in each country, click here.
Idea generation stage will be from April 5, 2013 to- April 22, 2013
2. Submit your idea to www.RegionalContest.com by filling in the online application form .
Deadline for idea submission is April 22, 2013
3. The jury in each participating country will select the finalist to develop the app & participate in pitching event held in Yerevan, Armenia.
Mobile app development stage will be from April 26, 2013 to June 12, 2013
4. The finalists will develop the final app & participate in the pitching event. Winner will be announced.
Start-up workshop and pitching event will be held on June 12 - June 13, 2013
Please, visit our website at www.RegionalContest.com to learn more and follow us on Twitter and Facebook.

For any questions, feel free to contact as at contest@mlabeca.com or
123 Hovsep Emin Street Yerevan 0051,
Republic Of Armenia
Tel: +374 10 21 97 41
+374 10 21 97 32
Fax: +374 10 21 97 77
Email: info@mlab.am; mlab@eif.am
Back