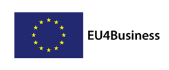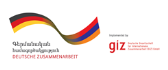 ANNOUNCEMENT
The "Support to SME development in Armenia" (SMEDA) project – co-funded through the European Union and the German Federal Ministry for Economic Cooperation and Development, and implemented by GIZ's Private Sector Development in South Caucasus Programme in cooperation with Enterprise Incubator Foundation (EIF) is announcing a call for successful entrepreneurs, business executives, business consultants, angel investors to act as mentors for the winning startups of the Innovation Matching Grants (IMG) and Science and Technology Entrepreneurship (STEP) grants.
Objective: Provide holistic and systematic approach of mentorship to ensure the most successful and sustainable outcome from the projects. This includes support for the achievement of milestones, turning the projects into successful businesses, as well as ensuring the commercialisation and monetisation of the companies and projects.
Areas of mentorship / expertise:
Marketing including: Marketing Plan development, Competitive Analysis, Customer development, Digital Marketing and online promotion, Distribution strategies, Crowd funding campaign development
Business Model Improvement including: Strategic Plan Development
Financial Plan Development
Patenting and IP Protection
Duration: 12 months with possible extension.
Working process:
A pool of mentors (2-3 per area) will be formed, which will be available for 14 startups in total.
Each team will choose an area and mentor by sending a request to EIF.
EIF will arrange the contracting with the mentor and will assign the mentor to the startup.
Each startup will have approximately 4 hours of monthly consultancy in 4 directions they can chose from.
Responsibilities:
1. Provide individual mentorship and coaching to the startups in the above-mentioned areas including:
Identify specific needs and weaknesses of the startups;
Support with the achievement of milestones;
Connect the startups with potential customers, partners and investors;
Raise awareness in case of project problems both to the startup and EIF;
Inform about potential pivoting / concept modification needs of the project.

2. Fill in timesheets indicating the time spent and activities done
3. Submit reports on the process, progress and outcome for each team
Required Qualifications:
Proven work experience and academic background in above-mentioned areas;
Proven experience as entrepreneur, business executive, business consultant, angel investors;
Experience in working with IT and High Tech Startups is preferred
Knowledge of current IT and High Tech trends
Remuneration: The mentorship will be paid with 20 EUR per hour.
Application Procedure: To apply for this position, please submit your CV in English to: info@eif.am cc: julia.tumasyan@eif.am mentioning the position title you are applying for in the subject line of the email.
Application Deadline: March 30, 2018 23:59 Yerevan time.
Back