An educational workshop with Intel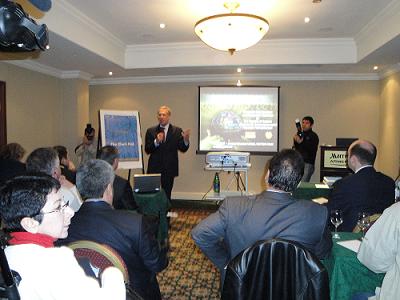 15.03.2010
An educational workshop with Intel was held at the "Queen Erato" hall of Marriott hotel on March 15, 2010, at 10:00. It is the result of the arrangement acquired at the meeting of RA Prime Minister and the leadership of Intel Corporation during the "Armtech" congress in USA in November, 2009.

During the workshop the following questions were discussed:
The goals of Intel "World Ahead" project (availability of technologies, content, teachers' retraining, and link between schools especially wireless: WiMax, WiFi).
Teachers' skilling (selection criteria, aims, other countries' experience).
School computer. The models of the usage and cooperation. Other countries' experience.
Skool.com, aims, content, translation, possible models.
Input of educational programs.
The perspectives of the cooperation with Intel at high education area.
The workshop conducted the representative of Intel, Robert Fogel, who arrived from the USA and is an IT engineer in educational sphere. R. Fogel noted that only 1.8 billion people out of 6.8 billion uses computer, and their aim is to make computers available for the other billions.R. Fogel added that we must pass from education focused on teachers to education focused on student. The workshop ended with dinner.
Back