A New Collaborative Effort for Further Development of the IT and Financial Industries
05.07.2011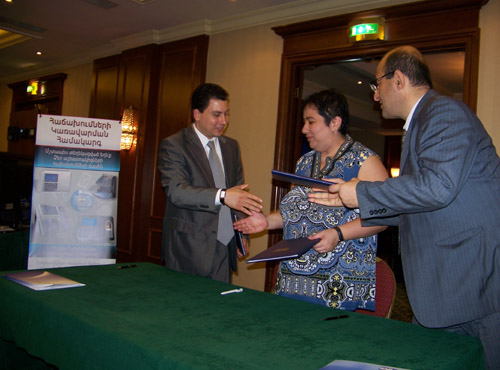 On June 24, 2011 in the framework of the 4th Annual Digitec Business Forum, Enterprise Incubator Foundation, Union of IT Enterprises and the Financial Banking College Foundation of Armenia signed a Memorandum of Understanding to set a platform of collaboration. Pending issues of the IT and financial industries, such as technology commercialization, creation of more technology-intensive work environments for higher productivity, development of technology savvy workforce in the financial industry and financial/business thinking workforce in the IT industry, became the focus of the new collaborative effort between the parties.

The memorandum envisages a range of activities aiming to develop technology-intensive environment and curricula for finance students, design specialized training courses to increase business skills of IT student and workforce, work with organizations and companies in the remote regions of Armenia to increase financial and IT knowledge and skills, and overall foster stronger ties between the two industries through increased dialogue, seminars, discussions and conferences among industry representatives.

Currently a number of projects are under design targeting in particular the public education and regional development components of the collaboration.
Back