23.08.2011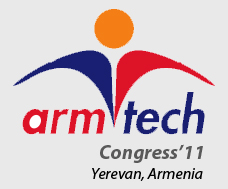 The 4th ArmTech'11 Global High-Tech Congress will take place on October 10-11 at the Armenia Marriott Hotel Yerevan, under the patronage of the RA Prime Minister.

This year conference program includes session tracks addressing critical high-tech industry and business topics including Enabling Environment for IT and High-Tech Development, Education, Telecommunication, Regional Development and E-society.

We expect to have keynote speakers and participants representing the public sector, leading technology companies and academia from Armenia, the U.S., Russia, European Union, CIS countries, the MENA region, South-East Asia.
Registration at ArmTech'11 is still open and will be until 10th September.

Please take a moment and register for ArmTech'11 by completing the form in the website: http://www.armtechcongress.com/eng/registration
Back