Regional Mobile app Contest: Best idea winners announced!
13.05.2013
The wiiners for best idea app are:
Armenia
Alexander Shakaryan
Project: Vozni
Description: A crowd-sourced courier service. As an alternative to expensive DHL, TNT and other courier services it will create a virtual space to connect travelers with those who use courier services.
Ukraine
Daniel Tonkopiy
Project: X-Rift
Description: "X-Rift" – is a multiplayer online shooter in augmented reality for any mobile device with camera. Player can shoot real players now, not just an image.

Moldova
Stanislav Emelianov
Project: Xploro
Description: Xploro is a geolocation marketing platform with in-app purchase model for business users to share their deals/sales/propositions & for the users who want to explore their proposals and use them.

Tajikistan
Orifjon Orifov
Project: mLearning as a Service
Description: App will provide the users with a variety of learning programs based on the user state (context-based learning). In addition the application will be integrated with the social network through use of Gamification technics.

Uzbekistan
Alexndra Osipova
Project: Find your medicine
Description: App lets you to search the list of drugs using several search filters and getting the route for the pharmacy and gives references on the drugs through Pharmaceutical reference book

Kazakhstan
Anuar Bolatov
Project: Learn Kazakh free
Description: App teaches Kazakh language for free based on the methodology of the Yelena Romanenko.

Kyrgyzstan
Rustam Sarybaev
Project: Agro Mobile Market (AMM)
Description: AMM is mobile application, oriented to organization management of private farms and platform for sales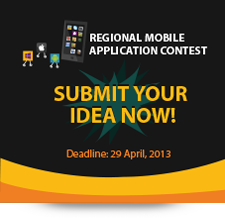 Back