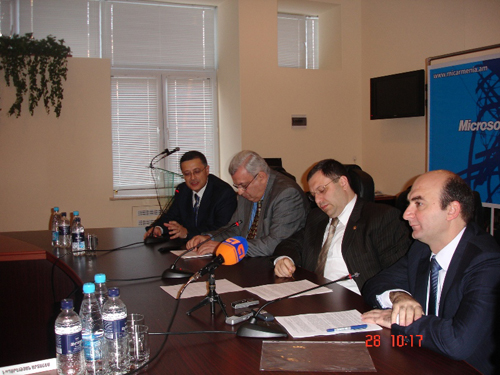 29.12.2009
On December 28, at 10:00, a memorandum was signed about establishment of "Microsoft Innovation Center" between Enterprise Incubator Foundation, RA Government, United States Agency for International development (USAID), State Engineering University of Armenia and Microsoft RA.

The memorandum was signed at State Engineering University of Armenia by the Director of EIF Bagrat Yengibaryan, The Minister of Economy of RA Nerses Yeritsyan, The SEUA Rector Vostanik Marukhyan and the Director of Microsoft RA Grigor Barseghyan.

The center will offer training and retraining opportunities for Armenian higher educational institution teaching staff, students and specialists of IT companies, and will hold Microsoft certification courses.

The Center focuses on creation of new innovative products and services, formation of new and viable IT startups, creation of new and value-added jobs, supply of qualified graduates, encouragement of e-services provision and formation of information society in the country through initiation and implementation of various targeted projects and activities.

Microsoft Innovation Centers operate in 40 countries, and the center will be the first in the South Caucasus.
Back